Ways to Protect Your App Idea from Your Competitors When Outsourcing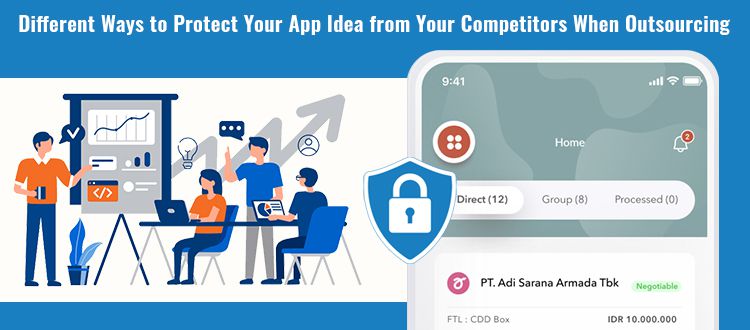 It's been a while since the introduction of the first mobile application, yet the idea of a new application still excites users. This also accounts for leading app stores teaming up with various mobile applications and launching them for users. The number of applications being launched every day gives a strong indication of the mobile application industry in the future.
With the growth and introduction of new applications almost every day, more companies are now coming up with numerous startup ideas and are launching their applications. Companies want users to unleash unique apps that have the best features and offer a phenomenal user experience.
If you are an entrepreneur in the mobile application domain, you would surely want users to gain a great experience while using your application. However, launching your application not only includes coming up with an idea, but you also need to ensure that your innovation does not get stolen by others. Other developers can steal your application name along with the concept if they get the slightest idea.
So do you want to keep your project safe from thieves around or prevent someone else from getting the credits for something that you have created? Well, most application entrepreneurs have learned the hard way, and you surely don't want to be one of them. The following points will give you ideas about how to protect your mobile application idea from thieves.
Share Information Carefully
It is an obvious step that you need to take while coming up with a new application. Although in some cases, sharing your idea is essential, you need to make sure that you are sharing your plan with someone reliable. When you launch an application, you need to share your project with the technical development team and clients; however, you don't need to share every detail of your idea while Outsource App Development India.
The less you reveal your idea, the less probability for someone can steal it. While sharing your project, ensure that you are only sharing it with individuals involved in your business and not with people having no role in your product or venture.
Choose Your Professional Relationship Carefully When Outsourcing App Development service
While you are launching your very first product or application, you need to work with reputable brands. If you can build your app from scratch, go ahead. However, when you are outsourcing professionals to work on your behalf, you should make your decision wisely.
Before selecting a freelancer to work with, review all testimonials and screen all third parties involved carefully. Well-reputed third-party application developers and contractors will have no trouble offering you all the information needed. When you work with well-rated professionals, you get a well-performing application, and your data remains safe as well. While outsourcing services choosing authenticate sources is also crucial. Often developers and entrepreneurs get trapped in fraudulent activities that lead to tremendous losses for their business.
To continue reading the article click here: How do you protect your app ideas from being stolen when outsourcing?
Pour être informé des derniers articles, inscrivez vous :