Why App prototyping is essential?
From last few years, Mobile markets are quickly evolving and taking a new pace in the success. We all have become accustomed to the smartphone applications, the way they are completing our tasks. This has forced many to adopt a functional application for their businesses. App developers are trying to push their limits by implementing iterative development and deployment practices.
The traditional development methodologies are still preferred by many developers. There is an underlying premise of being more in favour of the traditional approach. This begs the question – are traditional methodologies more beneficial or we can rely on modern methods too? Here we are talking about prototyping.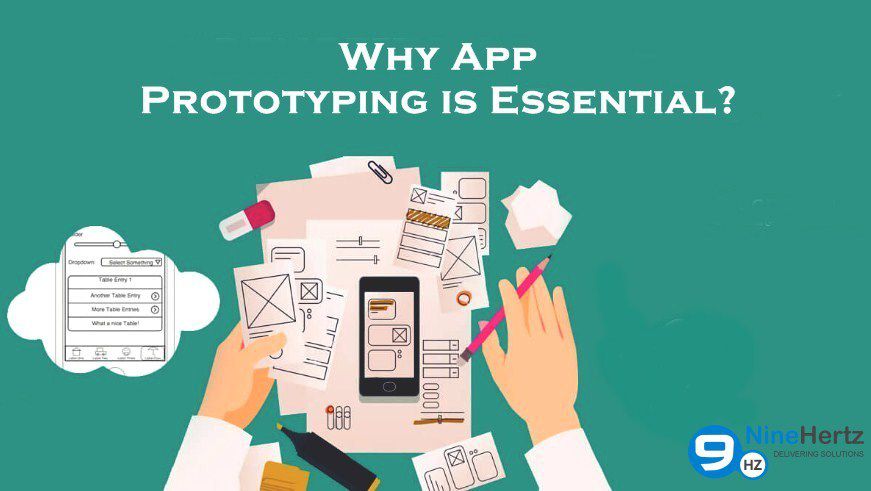 Prototyping is the method of faking before making. It is just an early sample and release of any product that is intended to test the features and functionalities before finalizing it. It allows designers and developers to create a dummy product to get feedbacks over it in order to improve quality because a small mistake can spoil even the best app with an excellent idea.
In this post, we are going to discuss the importance of prototyping of mobile apps. Just look at some points that explain well about this.
Get design issues at early stage
Generally what we visualize in our heads looks awesome in our view, but things turn out horrible when we implement them. For example, you are designing a contact form for a website and have been given the fields for input. When you come to jot it on paper, you may change your mind many times it and till the time of finalizing, you may end up with a completely different design that is perfect by your end.
A prototype can instantly allow you to catch the issues and resolve it before significant production just as coding the design.
Clarifying costs
With the help of prototyping, one can view the process and even the little steps of processes, do require change, combine things or remove. In this way, prototyping streamlines the production and reduces the cost at a greater level.
Consequently, if something required costing more, you can make over your mind to have that and you will not face any problem to see the sudden cost. You can save time and cut down on the cost of development which is very fruitful in any business. You can hire the app prototyping services to reduce extra efforts, time and cost of development.
Encourages Collaboration
Building applications and web-based products will more than likely involve several individuals. Early prototyping allows everyone involved in the process to get each other's insight over the app. It encourages collaboration and team efforts. You will receive early feedbacks and decisions to get on the right track before implementing big task and will be able to improve quality of development.
Closing thoughts:
A good working prototyping approach is something like just cooking a great dish with all its ingredients set. It is so obvious that it is a necessary aspect which cannot be overlooked in today's work culture. It is useful for both the end - development team and users perspective.
Nowadays, apps are the totality of business and user experience is something which can greatly increase your user base at the larger level. So, it is recommended to make a prototype version of your app before rolling up your sleeves for development.
Pour être informé des derniers articles, inscrivez vous :